Dan's Air Conditioning services offer mobile services around the West Midlands - Birmingham and Coventry to trade and retail customers. Experienced air conditioning specialist formerly of Alpinair London. Services available for cars,vans, minubus & commercials, mobile services subject to availability.
Fault finding - Hybrid AC systems - Crash repair AC - Leak checking - Regas Recharge
Classic Cars - Sports Cars - Performance cars - Kit cars
Hours: Monday to Friday 10am to 8pm
Porsche air con specialist fault finding , regas & service
Mercedes Air con Specialist classic Mercedes W140 W124 C124 CE coupe W201 R129 SL
Tel: 07946 240 968 Dans Air Con Specialists West Midlands
Above: Range Rover LR322 Air con regas system leak detection and repair by Dans Air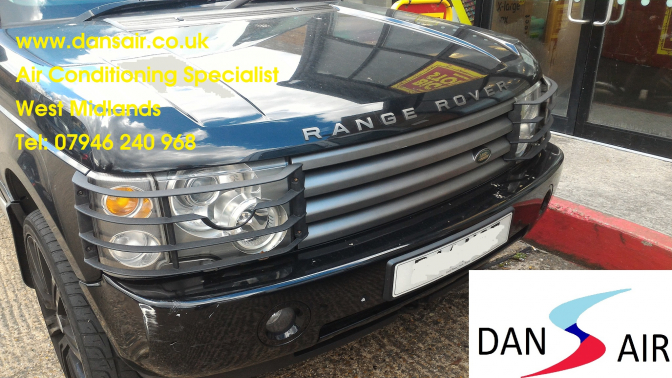 Porsche air con specialist West Midlands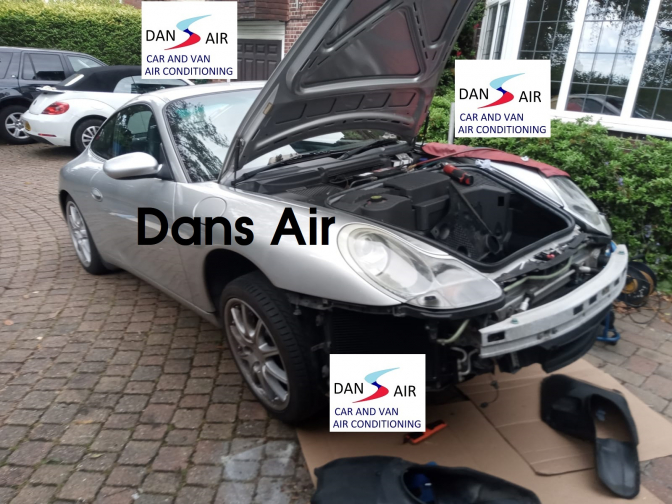 The Porsche 996 air con fault finding. The 996 suffers from a build up of dirt leading to corrosion and damage to the radiators and condenser.
Below: GT3 - fitting in a new AC system
porsche air con repair specialist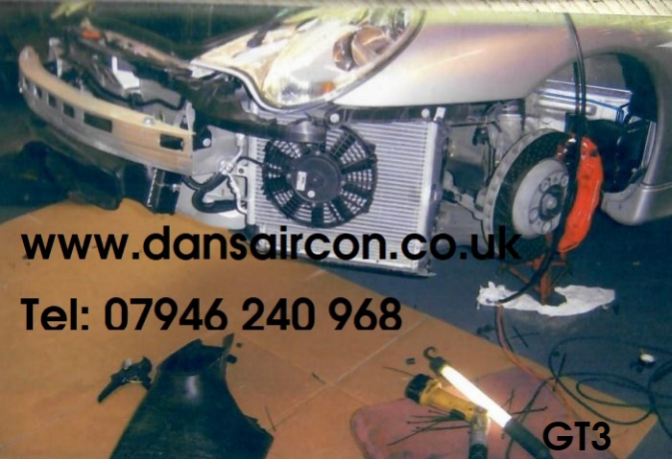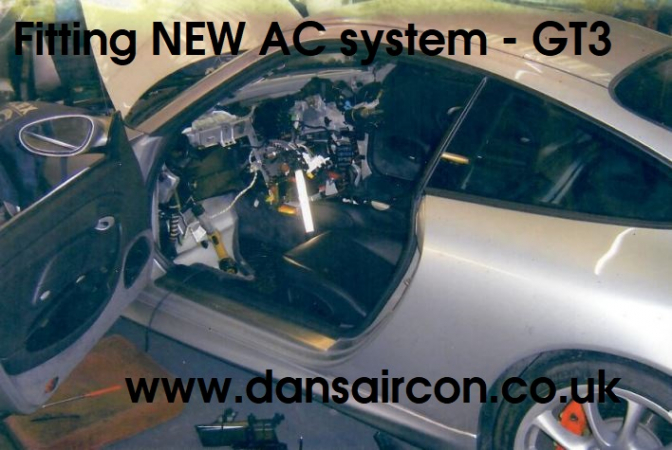 Below: Working at Alpinair in 2004 -workshop photo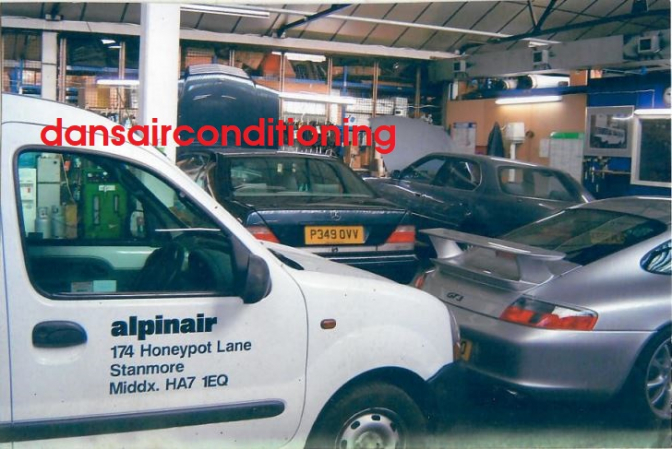 Below: Mercedes W124 convertible fitting new AC system into the car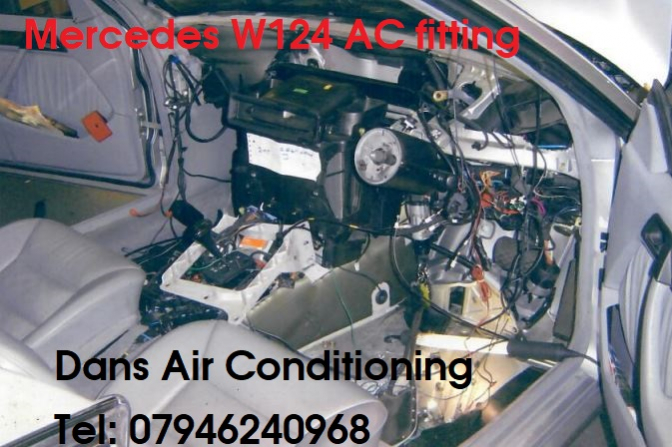 Above: Mercedes W124 air con retro fitting , blower motor replacement 300CE 320Ce E320
Classic Mercedes air conditioning fault finding , regas,repair & install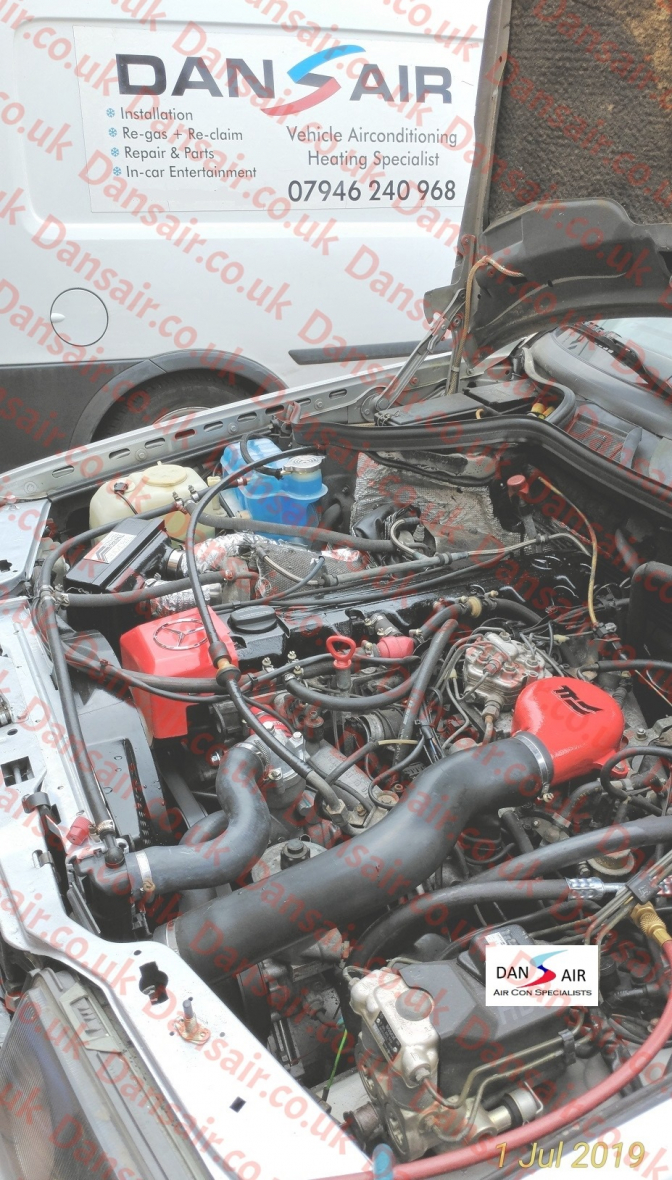 How much is an air con recharge?
The price you pay for a regas is dependent on several factors.
1. The type of gas your car takes 2. The amount of gas required 3. For call out service - how far away you are from us, if we are coming to you.
Types of available gases: - The vast majority of UK cars use one of two types of refrigerant - R134A and R1234YF. If your air conditioning system requires R134A gas then the cost to recharge starts from £60. For vehicles that require the R1234YF gas , price starts from £80. It is not possible to switch nor mix gases.
How would I know which type of air con gas I require?
R134A gas is most common in vehicles manufactured before 2014. All vehicles with AC manufactured after 1st January 2017 would use the newer R1234YF gas.. After 2017 all manufacturers switched from the older R134A air con gas, in a bid to supposedly reduce global warming, as the old gas was thought to be more enviromentally damaging. The new R1234YF gas was phased in by vehicle manufacturers between 2014 and 2016 meaning some cars from this period cou;ld be using eother of the two. To find out which type of air conditioning gas your car needs get in contact with us. Although you may be able to see a sticker under the bonnet to identify it.
Does my air con need recharging?
Manufacturers recommend that your air con system is recharged every 2 years. This is not normally check as part of your MOT test and the regassing service is not typically included in a normal oil service either. Its worth keep track of this yourself to make sure that you include AC recharging as part of your regular vehicle maintenance routine.
If your Air con is blowing out warm air or only works intermittently,it could just be a case that a regas recharge will bring it back to life. Some drivers may only notice this on the warmest of days. Occasionaly you may notice unpleasant smells coming from the air vents , this could be bacteria that has built up which would need attention
More about your AC -
Air conditioning doesn't just provide summer comfort, it can also be used in the Winter to demist your windscreen. You may have noticed a Fast Demist button on some BMWs, Mercedes and Audis that have a rapid clear windscreen function. This turns on the AC and sucks in the moisture , helping to clear the screen fast.
The Recharge AC Service from Dan's Air
Our recharge service is quite simple and involves removing any old refrigerant gas and oil from your air con system before replacing this with the correct amount of new refrigerant and lubricant as per your vehicle manufacturer's recommendation. We also perform a vacuum test to ensure that there are no cracks or damage to your vehicle air conditioning system that could cause the new gas to leak out.
Within an hour the whole recharge process is generally completed and you will once again have the pleasure of experiencing cool or cold air on demand. Vehicle air conditioners that are not recharged regularly will be less effective and have to work harder to produce cool air. A poor running AC has a higher load on the engine and uses more fuel as a result. If your air conditioning system has not been recharged in the past two years, then you will notice reduced efficiency usually in the Summer months.
Our Recharge & Regas Service
Let Dans Air recharge your air con while you wait. We will replace and recharge lubricant and refrigerant levels in line with your manufacturer's recommendation.
Car Air Conditioning Vent & Pipework System Cleaning
If there are any bad odours coming from your air vents when you turn on your AC then it need cleaning , this smell is usually caused by bacteria living in the vents and pipework.Dan's Air can hep with this, please enquire.